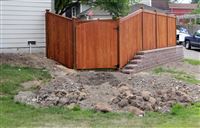 My neighbors have had to look at quite a mess for the past couple months. The back yard is beautiful but all we did in the front yard was tear out all the plants and leave 4-5 yards of dirt piled up in the side yard. We took a break from that project to give Tim time to put new siding on his house. The siding is done so it's back to the yard project!
The front yard should go much quicker than the back yard did because we're doing a lot less work. Here's what is on the agenda:
Scrape off all the sod and the top ~6" of dirt
Bring in new dirt
Add downspout drains out to the street
Extend the back yard irrigation system into the front yard.
Install new sod
If all goes according to plan, we'll be done in two weeks. I can hear you laughing now. When's the last time Tim and I worked on a project together and had it go "according to plan"?