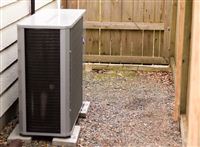 It's so nice to have contractors that you can trust. For any heating question, I call up Chelsea's Dad who owns PMG Mechanical (206) 624-5040. When we bought the house, I asked him to come over and inspect our equipment. He recommended replacing the water heater immediately and said the furnace would last us through the winter but not much more. These recommendations lined up directly with what we heard from our inspector.
We already added a new tankless water heater and this summer it was time to replace the furnace. Beyond the question of what kind of furnace we should install, we also wrestled with the question of whether or not we should add air conditioning to the house. That might sound crazy to friends and family east of here, but very few homes around here have AC. it's a luxury because you really only need it maybe a week out of the year. Temps rarely get above 85 degrees so fans and open windows are almost always enough. But on the flip side, we're hoping to be in this house for a long time, so if we're going to do AC, now is the time when we can get maximum enjoyment out if it.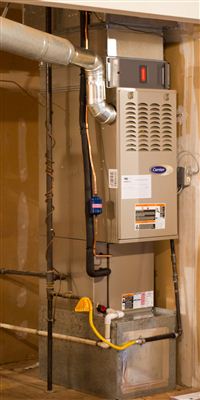 We ended up with a Carrier Infinity 80% efficient two stage furnace and a Carrier Infinity suitecase air conditioner. Brent recommended that we go with the 80% furnace over one of the high efficiency models because they just haven't nailed the reliability of those models yet. The two stage furnace will give us a big boost because it only runs at partial power most of the time, but for the rare occasion when it gets really cold, the furnace kicks in full power. The fan is also incredibly efficient and costs almost nothing to run. The air conditioner is an extra small and quiet model that is normally installed in commercial locations where size and noise are a factor. In our case, it we only had about 5 feet to our property line and I wanted to still get yard waste bins and the lawn mower through. After it was installed, we still have 3 feet of clearance to the fence. It's definitely a splurge but I'm betting we'll think it was worth it as time goes on. Plus, we'll be the party house when it's hot outside! The final bit that we added to the bill was an electronic air cleaner. It increases air flow through the system, creates an allergy free environment, and is very easy to clean.
Thanks to Brent for getting this all installed for us! Normally when I do a job I call around to a bunch of different places and haggle for the best deal. It's such a blessing to make one call and have it done!