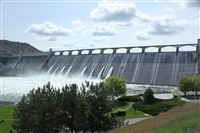 It inevitably rains in the Puget Sound area over Memorial Day, so this year we decided to head east of the mountains. For those of you unfamiliar with Washington geography, the Cascade Mountains run down the state and create two very different environments. The west side is dominated by the ocean weather so it's very mild year round with lots of rain. The east side of the mountains is a certified desert with extreme temperatures. You're almost guaranteed to get sunshine. So with that knowledge in hand, we looked into a trip to the Grand Coulee Dam.
Unfortunately Tyla and I came up with this plan with her family very late and only had a couple camp sites to pick from. I picked a spot at Sun Banks Resort mostly at random. You know how you have that one horribly wet camping trip that will forever make you say "well it least this trip isn't as wet as THAT one"? I now have a similar comparison for loud and tiny campsites. Our site was maybe twice as big as their camper. Our fire pit was about 8 feet from our (thankfully friendly) neighbors. And the rest of the campground was populated by college kids drinking and partying nearly around the clock with brief breaks for vomiting. I've never seen that many beer bottles laying around a campground. The only good thing is that we were on the end of the campground in a group of sites that were a little bit separated from the main party and we bordered the lake. That being said, I felt pretty dumb for picking the site but it could have been worse.
On Saturday we checked out the dam and the Visitors Center there. We found a spot for Oskar to swim and basked in the sunshine. We capped off the day with a short drive back to the dam to watch the laser light show. You should probably see it once but be warned that it's 40+ minutes long. We were all fighting sleep by the end.
We started off Sunday with a trip back to the dam to take a tour. There are a lot of restrictions post-9/11, but we went down into the third powerplant and they drove us across the top of the dam. I'll probably make a second post full of the facts we learned on that trip. It's an incredible piece of construction!
After lunch on Saturday, we headed out on a hike that I picked off the web. At 4 miles and 600 feet of elevation gain, it seemed pretty simple once you got past the "0.15 miles of rock scramble." Once I saw the hike, I should have turned us around. That first bit was pretty treacherous, often requiring getting down on all fours to make it up the sandy and rocky "path." Nancy and Logan made it up the first part and then turned around. The rest of us continued on but turned around before making it to the top as we were running out of water and energy. Plus we knew that going down would be even harder than coming up. Unfortunately that was very true.
We had barely started back down the trail when Tyla took a tumble. The squeamish among you should skip this paragraph. She caught her thumb nail on a rock and bent it back about halfway down the nail ripping the nail off the nail bed. Blood ensued as I whipped out my first aid kit and tried to remember the class Tim and I took. I got her bandaged up but then we had to get all the way down the trail and she had lost use of one hand. Thankfully we made it down without any more serious injuries.
Bear Grylls says that a very bad day is a series of small mistakes that you ignore. I was tired of ignoring small mistakes so I decided to put an end to it by taking Tyla to the doctor. If we were at home we might have tried to clean it up ourselves, but we didn't have many supplies. The only doctor in the small town that was open on Sunday was the ER so that's where we ended up. They cleaned it out well for her, gave her tips on keeping the pain away, and were very nice in the whole process. Thankfully there was no line so we got through pretty quickly. After hearing what they had to say about it, we probably could have skipped that trip, but I was happy to have finally erred on the side of caution for once and we both felt better knowing that nothing more serious had happened.
So I have to give a huge thanks to the Brandt family for hauling their camper halfway across the state, feeding us, and putting up with my bad choices! If I ever get to pick another campground, I'll try to find a bigger/quieter one and you can bet that the next hike will be something we can all do without major risk of injury. Thank you all for being so nice about the whole weekend!
This post is already getting pretty long so I'll save the pictures for another day. However, on the way out there I did mount the Kodak Zx3 to the windshield and make a timelapse video. I wanted to show everyone who quickly the weather and environment can change! In an hour or two, I can drive from wet, cool weather, over a mountain pass through snow and down into a desert complete with tumbleweed!