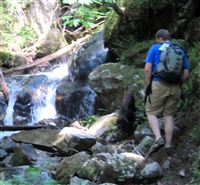 So you want to start hiking? Tyla and I were chatting about this on a recent hike, and I decided to make three posts about it. The first will be tips things you should consider carrying with you, the second is how to pick out a hike, and the third is a selection of good first hikes to get you started..
Water. Lots of water. I can pretty easily go through 1.5 liters in 4-5 hours depending on the temperature. I like Camelbaks because you can drink small amounts as you hike, but however you do it, everyone should be carrying water. It's much better to have too much than not enough.
Carry a printout of the trail route with you. I also like to do a little extra studying of some topographical maps. That might be more than you need, but you should at least know the directions to the trailhead and which turns to take along the trail. You should also know how to discover when you've missed a turn or gone too far. What other trails or land features are in the area?
Know the weather. I usually guess what I'll need and then take one more layer to stay warm. However you do it, layers are the key. Make sure you have room in your backpack for any layers you aren't wearing.
For your first hikes, you can probably get away without carrying a compass or GPS, but you don't want to do that for too long. It's easy to get turned around in the woods.
Always carry some kind of food. I like to carry Cliff Bars, and Tyla usually makes some trail mix. For hikes that go over lunch time, we'll carry sandwiches with us. Even if you don't plan to eat, you need to bring something. You never know what's going to happen and having food gives you more options.
Hiking early in the day has two benefits: you'll be finishing up before the heat of the day and you'll get a better parking spot at the trailhead. This is particularly important for the first hikes you'll be taking because they are more popular.
What else do I carry in my pack? (You definitely don't need all this stuff when you're starting out on busy trails.)

Ankle gaiters in case I run into snow.
Multitool and pocketknife
Waterproof matches and a flint/magnesium combo. I probably only need one.
I just picked up some trekking poles to use on the tougher hikes.
Small amounts of ibuprofen, antihistamine, antiseptic wipes and burn gel
Extra socks
Small combination compass, flash light, signal mirror, thermometer, emergency whistle, and magnifying glass
Mini roll of duct tape
A little bit of twine
You'll come up with your own system as you do more hiking, and you can greatly reduce the amount of stuff in your pack when hiking with a friend who is also prepared. For example, Tim brings a SAM Splint which is nice to have along. The important thing is that you think about what you might need if your trip doesn't go as planned. I know I can survive overnight out in the woods if I need to.
I keep all these items in a backpack that I dedicate to hiking so I don't have to spend time packing and remembering all these items every time I leave on a hike or camping trip.