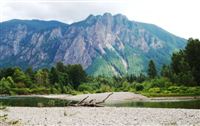 If you spend much time in this area, it doesn't take long to recognize Mt. Si. Just east of North Bend, this chunk of rock is about 4200 feet above sea level. The hike to the top is 4 miles long and gains about 3300 feet. It's one of the most popular day hikes in the area, but for some reason, I've never done it. I can see it when I drive out of my house and it bugs me every day that I haven't been to the top.
Last Saturday, Tyla and I set out to change that. The hike up was actually easier than I had expected. The trail was indeed quite busy, but it was mostly hikers who knew what they were doing and not the random people in flip flops that you find on Tiger Mountain. We made decent time compared to the other people that we started with. It took us right around two hours to get to the top and about and hour and forty five minutes to get down. Interestingly, the down hike hurt more than the hike up.
We spent about an hour at the top. I even tried to climb to the top of Haystack Rock. That's the piece of rock you see jutting out of the top of the mountain. When you reach the stop on the trail where everyone has stopped, keep going and you'll see where the real end of the trail is. Every year, people die climbing Haystack, and now I know why. Tyla was the smart one and decided to sit it out. I had to climb it. It was a very steep climb, but going up was simple. Combing down was another story. It took me about five minutes to climb up but twenty to climb down. I even got stuck while climbing down and had to go back up to find another way down. I'm not sure I'll be doing that again soon.
We didn't get very many good pictures because it was cloudy for the whole hike. There are a couple shots in the photo gallery including a 3D profile of the GPS data. Nevermind the fact that there is a bit of drift in the data. We hiked the same trail up as we did going down.
Tyla, thanks for hiking with me! I love seeing all these amazing sights with you!