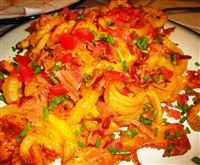 On our trip to Indiana, we stopped at Granite City for dinner. It's one of Tyla's favorites and I finally got to try the Idaho Nachos that I heard so much about. Last weekend we decided to try and make them for ourselves. I think they actually tasted better than the ones from the restaurant!
Ingredients

1 bag frozen waffle fries (we used unseasoned curly fries because we couldn't find waffle fries)
2 cups shredded cheddar cheese
3-4 strips bacon
1 small tomato
Chives

Bake the waffle fries according to the instructions on the bag. Near the end of the baking, push all the fries into a pile and smother with the shredded cheese. Once the cheese is melted, pull them out of the oven and top with chopped bacon, diced tomatoes, and chopped chives.

Dip Ingredients

1 cup sour cream
1/2 cup mayonnaise
1/4 tsp onion powder
1/4 tsp curry
1/8 tsp paprika
1/4 tsp Worcestershire sauce

Combine all the ingredients in a bowl and top with parsley flakes.
This recipe makes a lot of dip. I think will probably cut it at least in half (maybe even less) the next time we make it.
Bottom line: delicious! They will go fast.