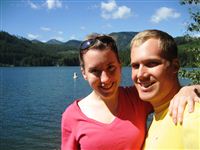 Tim, Chelsea, Andy, Stephanie, Nick (an intern at Tim's company), Tyla and I spent the weekend about 15 miles east of the summit of Snoqualmie Pass at Lake Easton State Park. We all convened at campsite 109 after work on Friday and crammed five tents onto the tent pad. The rest of the weekend was filled with cornhole, beverages, campfires, delicious food, and hanging out down by the water. The lake was beautiful, but the campground was very loud. I-90 was only a few hundred yards away. I guess when you try to cram train tracks, a lake, a campground and an interstate into a mountain pass, there's not a lot of leftover room. It was great for a weekend trip considering how close to home it is(60 miles from my house.) On Sunday morning, we packed up and visited Mountain High Hamburgers on the other side of the interstate. It's a Scherschel family favorite and made a nice end to the weekend.
Thanks to everyone for coming, and special thanks to Tyla for putting up with Nick and me talking about skiing all weekend. This winter he's going to be living the dream: ski bum at Alta. Combine that with his lifetime full of 100 day ski seasons at Killington and I'm pretty jealous.
The next camping trip on the calendar right now is in late August when we take a trip out to the San Juans.
Photos are available in the gallery.