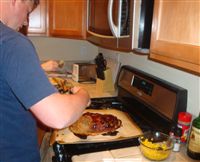 Since we started making food together, Tyla has been talking about some crazy meatloaf that she had once before. On Saturday, we decided to recreate it. It's a Bobby Flay recipe marked as Easy with a 20 minute prep time. There are a lot of ingredients, but I suppose no part of it is super difficult. It did take us closer to 45 minutes to put it all together though.
Ingredients

3 tablespoons olive oil
1 large zucchini, finely diced
1 red bell pepper, finely diced
1 yellow pepper, finely diced
5 cloves garlic, smashed to a paste with coarse salt
1/2 teaspoon red pepper flakes, divided
Salt and freshly ground black pepper
2 large eggs, lightly beaten
1 tablespoon finely chopped fresh thyme leaves
1/4 cup chopped fresh parsley leaves, plus more for garnish
1/2 pound ground pork
1/2 pound ground veal
1 pound ground beef chuck
1 cup panko (Japanese) bread crumbs
1/2 cup freshly grated Romano or Parmesan
1 cup ketchup, divided
1/4 cup plus 2 tablespoons balsamic vinegar

Preheat oven to 425 degrees F.

Heat the oil in a large saute pan over high heat. Add the zucchini, peppers, garlic paste, 1/4 teaspoon red pepper flakes, and salt and pepper, to taste, and cook until almost soft, 5 minutes. Set aside to cool.

Whisk together the eggs and herbs in a large bowl. Add the meat, bread crumbs, cheese, 1/2 cup of the ketchup, 2 tablespoons of the balsamic vinegar, and the cooled vegetables and mix until just combined.

Mold the meatloaf on a baking sheet lined with parchment paper. Whisk together the remaining ketchup, balsamic vinegar, and red pepper flakes in a small bowl. Brush the mixture over the entire loaf. Bake the meatloaf for 1 to 1 1/4 hours. Remove from the oven and let rest for 10 minutes before slicing.
We cheated by using thyme, parsley and parmesan that weren't fresh, and we also used regular bread crumbs. The end result was pretty impressive! Chelsea and Tim came over to help us eat it as it makes enough to serve six pretty easily. We ended up calling it Hippy Loaf because it was so fancy. It doesn't taste like meatloaf as I know it, but we'll be making this again!