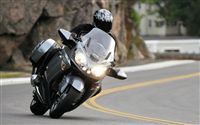 One hour of a motorcycle mechanic's time costs about $80. Coincidentally, that's how much this set of nine maintenance DVDs costs. They arrived in my mailbox this week and I already feel more confident in doing some of these basic tasks. Doing maintenance on a motorcycle always makes me a bit nervous since there isn't much room for error, but having these videos to show me the way helps a lot. Oh, and as the site says, these are for entertainment only. Right. They aren't professionally produced by any means, but they do the job.
Here are some of the topics these videos cover:
Oil change
Front/rear tire removal and replacement
Gas tank removal
Valve adjustment
Removing the fairings.
Coolant change
Brake/clutch fluid change
Brake pad replacement
Fork oil change
This actually seems like a great business idea. You could sell these for all the most popular cars and motorcycles.