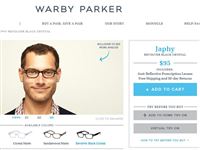 Is it just me or have glasses gotten crazy expensive? They lure you in with the price of the frames, then add a half dozen coatings and gimmicks to the lenses, and suddenly those glasses cost more than your monthly car payment.
I've heard enough people talking about warbyparker.com that I'm going to give them a serious look the next time I buy glasses. Here's their concept in their own words
Warby Parker was conceived as an alternative to the overpriced and bland eyewear available today. Prescription eyewear simply should not cost $300+. The industry is controlled by a few large companies that have kept prices artificially high, reaping huge profits from consumers who have no other options. By circumventing traditional channels and engaging with customers directly through our website, Warby Parker is able to provide higher-quality, better-looking prescription eyewear at a fraction of the price.
If you don't live in a place that has a showroom, there are a couple tools available. You can upload a picture of your face and then see the frames on your face. Once you get your choices narrowed down a bit more, they'll send you a sample of the various frames which you then mail back. Additionally, for every pair of glasses you buy, Warby Parker will donate a pair to charity.
It seems like a great company that is producing some quality products, and I'm eager to give them a try.