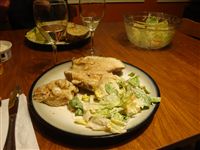 Hopefully Mom doesn't mind me posting her top secret family recipe. This is one of our family favorites. Two thumbs up!
On a side note, I realized that it's kind of silly to have a ranking system for recipes that make it to the blog. Why would I post a bad recipe? I'm only going to be sharing the ones that we really liked. Also, I know there have been a lot of food posts recently, but that's because we had a backlog of things to write about. This is the last of the backlog so I expect them to slow down going forward.
Italian Style Chicken Breasts

2 whole chicken breasts
1/2 cup fine dry bread crumbs
1/2 cup parmesan cheese
2 eggs, well beaten
1/2 cup margarine
1/2 lb sliced fresh mushrooms
2/3 cup white wine (Mom recommends white zinfandel)
1 cup mozzarella cheese

Mix bread crumbs and parmesan on a plate. Beat eggs on a plate or flat bowl. Dip chicken breasts in egg then in bread crumbs. Make sure it is coated well.

Melt margarine in skillet over medium heat. Add chicken and brown on both sides. Remove chicken to a shallow baking dish (9×9 pan.) Add mushrooms to skillet and cook until almost tender, stirring frequently. Mix in wine. Pour mixture over chicken.

Cover with foil and bake at 350 for 20 minutes. Uncover and sprinkle mozzarella cheese over chicken. Return to oven uncovered and bake 10 more minutes or until chicken is no longer pink.
I made this for Tyla on Valentine's Day and served it with a Caesar salad and baked potato. Baked potatoes taste excellent when you use cover them with the extra sauce.
Also, Two Vines Riesling is delicious! I bought it a few months ago and forgot about it. After that, Tyla was telling me how great this wine was. On Valentine's Day, I pulled out a bottle of wine and discovered it was the one she had been talking about. Jackpot! Err… I mean… I planned it that way because I knew how much she loved it.