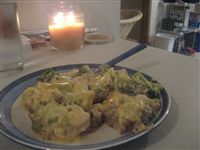 Tyla and I found this recipe in the Campbell's Casseroles and One-Dish Meals book. It was so good we made it again the next week. Our only change was using chicken instead of the recommended turkey. It would taste just as good with turkey though. The deliciousness to effort ratio for this one is off the charts!
Chicken Stuffing Divan

4 cups Pepperidge Farm Herb Seasons Stuffing
1 1/4 cups water
4 tablespoons butter
1 package (10 ounces) frozen broccoli cuts, cooked and drained
2 cups cubed cooked chicken
1 can (10 3/4 ounces) Campbell's Condensed Cream of Celery Soup
1/2 cup milk
1 cup shredded Cheddar cheese

Prepare the stuffing using the water and butter according to the package directions.
Spoon the stuffing into an 11×8-inch shallow baking dish. Arrange the broccoli and chicken over the stuffing mixture.
Stir the soup, milk and 1/2 cup of the cheese in a small bowl. Pour over the turkey mixture. Sprinkle with the remaining cheese.
Bake at 350F for 30 minutes or until hot.
That photo is horrible. We didn't think to take a picture until we were into the second night of leftovers. Just make it. It's fantastic!