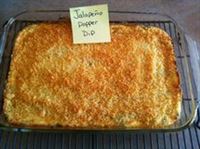 For the Fourth of July, we were looking for a delicious side dish to take to Tim and Chelsea's party. We ended up making this and wow, it was a big hit! It's very simple and made good use of our new food processor. The original recipe suggested serving it with buttery crackers or a French baguette but we used tortilla chips.
Ingredients

2 (8 ounce) packages cream cheese, room temp
1 cup mayonnaise
1 cup shredded Mexican blend cheese (half Jack, half cheddar cheese)
1/2 cup Parmesan cheese
1 (4 ounce) can chopped green chilies
1 (4 ounce) can sliced jalapenos – double if you like heat
1 cup panko bread crumbs
1/2 cup Parmesan cheese
1/2 stick butter, melted

Directions

In a food processor, add the first 6 ingredients and process until smooth. You do not need to drain either can of peppers.
Spread the dip into a greased 2-quart casserole.
In a bowl, mix breadcrumbs, Parmesan cheese, and melted butter; mix well. Sprinkle crumb mixture evenly over the dip.
Bake in a preheated 375 degree F. oven for about 20 minutes. You want the top to get browned and the dip to be heated through and bubble gently on the edges. Do not overcook this dish or the mayonnaise with separate and you will have a grease puddle in your dip.