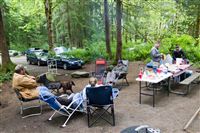 We have had quite a few new young couples join our church recently, so we decided to put together a camping trip. Unfortunately I picked a weekend when not a lot of the new people could join us, but we still did get a good crew together for a fun weekend.
Logan, Megan, Micah, Tim, Chelsea, Tyla and I headed south to Kanaskat Palmer State Park. You may remember that I camped there about three years ago. This time we got two sites to hold all the tents.
Camping this time of year is a bit risky because of the weather, but thankfully the rain held off for the most part. It broke up our Friday night fire around 1am, but we were probably overdue for bed anyway. Saturday was spent exploring the campground, playing ladder golf and generally being lazy.
Photos are posted in the photo gallery. Check the dates on the pictures to see where this trip stops and the last trip photos begin.