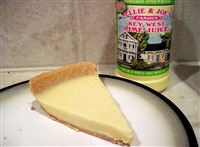 I've had key lime pie on my mind for quite a while, and, while standing in the grocery store last weekend, I decided it was time to give it a shot. I pulled up a recipe on my phone and was shocked at how simple it was. Key lime juice, egg  yolk, and sweetened condensed milk. But what is a key lime? Can I use regular lime juice? I ended up finding a bottle that said it was key lime juice so I went for it. It turns out that key limes are a lime variety thought to have originated in the Florida Keys.
It was ridiculously simple to put the pie together. I didn't do any whipped topping, but it came out delicious. This recipe comes from the Nellie and Joe's Key West Lime Juice bottle.
Ingredients

14oz can sweetened condensed milk
3 egg yolks
1/2 cup key lime juice
9"graham cracker pie crust

Mix all the ingredients together and pour it into the pie crust. Bake for 15 minutes at 400 degrees. Let sit for 10 minutes before refrigerating. Serve cold.