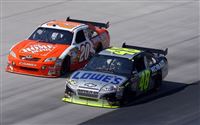 I generally shop at Home Depot because it's closer than Lowes, but as I wandered through Lowes recently, I wondered what is different between the two companies besides the colors. Here's what a little internet research turned up:
Size: Home Depot has 500 more stores than Lowes
Original: Lowes started first but they lagged until the 90s when they decided to turn themselves into a nicer version of Home Depot. They tried to accomplish that with better service and better looking stores.
Money: Home Depot has a 5.91% profit on $73 billion in revenue. Lowes does 3.9% on $51 billion. Home Depots profit margin is one of the best in the business.
Growth: Home Depot's stock has gone up 150% in the last five years. Lowes has gone up 50%.
Price: Price comparison are almost exactly identical when you look at a large project.
Products: Home Depot has more tile and toilets for your bathroom remodel but Lowes has more appliances for your kitchen or laundry room.
Returns: Both have almost identical return policies, but while Home Depot will only give you 30 days to return damaged goods, Lowes gives you 90 days.
Military: Both stores will offer discounts to military personnel (Home Depot and Lowes details.)
So as expected, these two companies really are extremely similar. It looks like Home Depot takes the edge in the business world, but the consumer probably won't notice the difference.