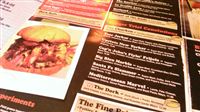 I love a good burger. Up until now if you asked me for the absolute best burger I've ever had in an area restaurant, I would have to say it was the burger at Tavern Law in Seattle. That is no loner the case. Enter Lunchbox Laboratory!
Their first site was in Seattle, but even the draw of a delicious burger couldn't convince me to venture across the lake to the city. Now they have a new location in Bellevue which is just a few exits down 405. Perfect! On the last Friday of my paternity leave, Logan, Tyla, Elijah and I headed there to see what the buzz was all about.
It's a casual restaurant with a very fun menu. Pretty much every burger looked incredible. It was hard to pick one but I was sure that no matter what I picked, it would be delicious. More experimentation is needed to prove that hypothesis, but so far so good because I picked an AMAZING BURGER. It was the Sante Fe Slammer: "Super-beef, colby jack cheese, bacon, lunchbox onions, diced green chilies, and papa's house-made bbq sauce. I got that with tots smothered in cheese and bacon. Tyla ordered the "Tribute to Dick's Deluxe" (Dick's is a famous burger place in the area) and Logan got a dork burger which is duck + pork.
The food was fantastic and I think we're all eager to eat there again. The downside is that the location is kind of in the newer snooty area of Bellevue so parking is a pain. It's also not cheap. Tyla drank water and I had a pop. Our total with tip was $48! This won't be an every day spot for us, but if you're in the mood for a wonderfully delicious burger, give us a call because we want to go back!