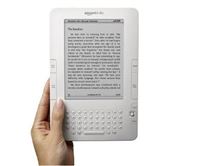 Do you look at this whole Kindle thing and think that you might be interested in it but you aren't willing to pay for a new one? I'd love to sell you my second generation Kindle along with a case. Yep, it's old but it still works great. It's one of the 3g models so no matter where you are, you can download new books without trying to find a wifi connection. Plus you can even check your email and surf the web for free (though it's pretty slow and I can't imagine anyone doing that very much.)
Why am I trying to sell it? I use my Kindle A LOT and I'm really interested in getting one of the new Kindle Paperwhites. There are so many new features since I bought that second gen Kindle four years ago (for $300… used). I really want to upgrade but I'm having a hard time justifying it since the old one still works so well.
So if you are interested in stepping foot in the Kindle waters for a cheap price, let me know what you're willing to pay. I know it's not going to fetch $50 but if I could even get a little money for it, it would make the upgrade easier.