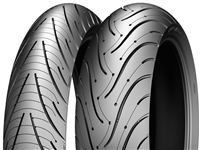 The front tire on my 2009 Kawasaki Concours has been wearing out and after 9700 miles, I no longer had much confidence in it. The back tire still looked pretty good, but I shopped around and decided to pull the trigger on new tires. The tech at Waldron Kawasaki suggested that I take the old rear tire home as a spare in case something happens to this new one and I don't feel like shelling out the money for another tire right away. 10,000 miles isn't a lot, but it's not too low for a sport bike or a "super sport touring" bike which is what the classification of this bike.
The Bridgestones that came with the bike weren't great and the compound on the front tires for the 09 model is notorious for being too soft and wearing out quickly. I opted for the Michelin PR3's after quite a bit of internet research and talking to the guys at the shop.
First of all, it looks visually like it might be some kind of rain tire. The tire is siped and can move a lot of water on wet days, but it's still very durable for hard riding and will last a long time. When people see the tire, the general reaction is that there is too much tread and there can't be enough grip. However, a UK magazine did a wet weather test and was able to lean the bike over in the rain and drag a knee. Another reviewer took them to the famous Spa race track, ran a bunch of laps, and then ran thousands of miles with them on normal roads. Not too shabby!
The tire is dual compound which means the middle is a harder compound for long life and the sides are softer for increased grip in the corners. Reviewers also say that this tire is incredibly quick to warm up and you get good grip almost as soon as you leave the driveway.
Since this is the first time I've ever purchased new tires for a motorcycle, I don't claim to be any kind of expert, but it's cool to see how much technology and progress there is in the tire world. I was surprised that I could feel a difference when I rolled out of the dealer, but I don't know if that was just because the tires were a different shape. The old ones were squared off a bit. Whether I'll be able to tell a difference beyond that or not, I hope these last me for another 10K miles and beyond!