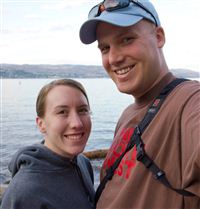 On Memorial Day weekend, Tyla and I headed over to Lake Chelan State Park with her family. It's on the east side of the mountains, so if you remember your Washington geography, you'll know that it's in the desert.
The park is more focused on day use than overnight camping, but we probably had the best trailer camping spot in the park. We bordered the woods on one side so we had some privacy. And even better, there was a small stream running in the woods behind the site that the guys named Pee Creek.
The park does have some incredible tent sites. Each site has room for one car to park along the road and then you carry your gear about 50 feet down to the water. Your tent gets set up on the banks of the lake. There's no immediate water access since there are about 10-15 feet of huge rocks heading down to the lake, but it's still a great view. If you have a boat, you can even rent a dock right by your campsite!
The lake itself is gorgeous. It's 55 miles long and is the largest natural lake in the state. At 1486 feet deep, it's the third deepest lake in the US and the 25th deepest lake in the world. The bottom of the lake is 388 feet below sea level! I couldn't find any stats about the cleanliness of the water but it was amazing how far down you could see.
We had beautiful weather all weekend which let us enjoy a lot of time playing with Oskar down by the lake, go for a couple short hikes, and check out the small dam just down stream from the lake.
It's a very popular destination which means there can be big crowds, but since it's such a big lake, the boat traffic didn't look too crowded. When I make my millions, it will be tempting to buy a house somewhere on the lake. Maybe this one will still be for sale.
In a three hour drive home, we went from desert lake to snowy mountain pass to wet coastal region. I love the Pacific Northwest!
A few photos are included below and more are in the photo gallery.