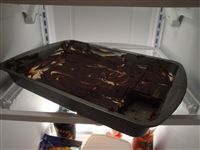 If you've ever been to a pot luck meal at church, you're probably very familiar with mint brownies, at least that's what I associate them with. These are the brownies with a green mint frosting covered in a harder chocolate frosting.
We put our own twist on the recipe and it turned out fantastically.
Mint Brownies

Boxed brownies
2 eggs (use 2 instead of 3 to make them a bit more dense)

Frosting

2 cups powdered sugar
2 tablespoons milk
1/4 teaspoon peppermint extract
6 tablespoons butter or margarine, softened

Chocolate Glaze

3 squares unsweetened chocolate
1 square semisweet chocolate
4 tablespoons butter
2 teaspoons dark corn syrup

Bake brownies according to directions on box. Allow to cool.
Prepare mint butter-cream frosting by mixing at low speed: powdered sugar, milk, peppermint extract and 6 Tbs. butter until smooth. Stir in enough green food coloring to tint a pretty green. Evenly spread frosting over cooled brownies. Refrigerate while preparing Chocolate Glaze.
Chocolate Glaze: In a heavy 2-quart saucepan over low heat, heat glaze ingredients until chocolate melts and mixture is smooth, stirring frequently. Remove saucepan from heat; stir frequently until glaze cools slightly. Carefully spread glaze over frosting to completely cover top. Refrigerate until glaze is set, about 1 hour.
The original recipe had instructions for making the brownies from scratch, but we used boxed brownies and it worked just fine. We also skipped the aesthetics of the green food coloring. I also jumped the gun on the chocolate glaze and didn't let it cool enough. It melted into the peppermint frosting and gave a swirl effect as I spread it around.
Short answer: delicious. We give this one a 3/3.