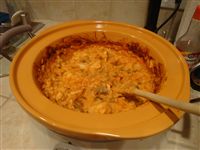 Over the last half year, Tyla and I have been trying all kinds of new recipes. Some have bombed. Some are on permanent rotation. It seemed like good blog content, so I'm introducing a new post category: Recipes. So without further adieu, I present Nacho Chicken & Rice Wraps. (On a side note, wouldn't it be great if "adieu" contained an "o" too?" The shortest word that contains all five vowels is "aeirious." Now you know. Oops, I think this qualifies as more adieu. Oh wait, it's "further ado", not "further adieu." Adieu means goodbye which makes no sense, but ado means fuss, trouble or excitement. Back to the food!)
Nacho Chicken & Rice Wraps

1 can (10 3/4 ounces) Campbell's Condensed Cheddar Cheese Soup
1 cup chunky salsa or picante sauce
1/2 cup water
3/4 cup uncooked regular long-grain white rice
1 pound skinless, boneless chicken breasts, cut into cubes
1 small can of mushrooms
5 flour tortillas (10-inch)

Stir the soup, salsa, water, rice and chicken in a 2 quart slow cooker.
Cover and cook on LOW for 7-8 hours (or high for 4-5 hours) or until the chicken is cooked through.

From: Campbell's Slow Cooker Recipes Cookbook (modified by us)
The original recipe is twice this, but it said it made 10 servings. We cut it in half and got 4 servings out of it. I find that my servings are always bigger than the cookbooks suggest. I'm a big boy. We also added the mushrooms because I had them already and Tyla loves them.
I had low expectations for this, but it ended up being quite good and I look forward to making it again. When we make recipes from the cookbook, we label them with two pluses for fantastic, one for good, and a minus symbol for things we wouldn't make again. For blog purposes, we'll use a scale of 1 to 3 where 3 is the best. This one gets 2/3. Tyla said she'd add sour cream next time and maybe use a little less salsa. I put green tabasco on mine and loved it the way it was.
Oh, and that picture doesn't do this justice. We've already discovered that we don't know how to photograph food. Get used to it. Also, the observant among you may notice that my slow cooker is a different color in various photos. I bought one that has three bowls (2, 4 and 6 quarts.) Each one is a different color so it will vary depending on how much food we're making.