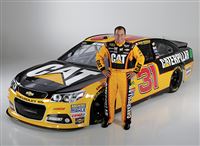 This was the first year of the new NASCAR playoff scheduling system. Every car still races in every race, but towards the end of the season, they start knocking people out of contention for the championship. In the last race, points are reset for the top four drivers and whoever finishes the best, wins.
It was an interesting format and I'm not sure how much I like it, but what I did like was watching Ryan Newman's terrific year. After parting ways with Stewart Haas Racing and getting a rid with Childress, he really seemed to flourish. He never won a race, but he finished strong most of the time and that put him in contention for the championship in the last race of the year.
He ended up finishing the race second to Harvick so he was one spot away from winning it all. While winning clearly would have been sweeter, this was still an incredible effort. Congrats to Newman and his whole team!
I hardly watched any races this year due to dropping ESPN from my cable package, but hopefully I'll get to watch a few more next year as Elijah gets a little older and the are only split across FOX and NBC (not ESPN or TNT, yay!)