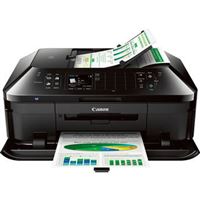 Last week our printer, a Canon MX700 all-in-one,  stopped printing black ink. It was 7 years old and my attempts to revive it were unsuccessful. Printers are super cheap (they make their money on ink) so the cost of switching to a new printer is really just the cost of whatever ink you have laying around. There wasn't much left in the printer and I didn't have any spares to worry about so we ordered a new printer.
We stayed in the Canon family and got a Canon MX922. It provides similar scan, fax, copy, print functionality but it adds duplex printing and wifi networking. The wifi bit is really nice because it means the printer can be located anywhere in the house and can print regardless of whether or not a computer is also turned on. It has a bunch of interesting networking features built in like the ability to scan to an email attachment, print from an email sent to the printer (for easy printing from phones), and printing from popular online photo websites.
While we generally print photos down the street at the drug store, the printer does a remarkable job printing photos. It comes with some 4×6 photo paper and the results from the printer were tough to distinguish from the drug store prints. Consumer Reports says it costs $0.50 to print a 4×6 through the printer and our drug store only charges $0.29. But it's still a nice feature to have available.
The only knock I have on it so far is that envelope printing is tedious. The 700 had a separate feed tray for envelopes. With the new 922, I have to remove all the paper, put in an envelope, and then switch back to the paper again. That's not a huge deal for us though. If this printer lasts another seven years like the last one did then I'll be happy!