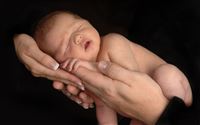 We're getting closer and closer to meeting our son, and we want to document his arrival with some photographs. Tyla found a bunch of great newborn photographers in our area, but for the prices felt much too high for photographers ones she liked. Obviously they can charge that much because they are fantastic at what they do and it's very difficult to photograph newborns, but we've decided to take on that challenge ourselves. HeatherW does this for a living and I can see her shaking her head! Yeah it's crazy, and yeah, it won't come out as good as if we had a pro, but here's how we're tackling the challenge.
I bought a Tamron 28-75 f/2.8 lens for our camera. It's a fast zoom that takes incredibly crisp photos. The only other lens I have that could have worked was the Canon 50mm f/1.8 but the zoom felt like it would make things easier and it will probably the lens that stays on the camera most of the time when we're done.
Tyla has been hitting up a bunch of the local secondhand shops finding some great fabrics and props. I "helped" by picking up a prop too: a John Deere truck. She's found a lot of great items including heavy white and black fabric to use as a backdrop, and we've spent well under $100 in total.
The internet is full of tips for newborn photography and we've got a pretty good list built up.
Tyla has a Pinterest board full of newborn photos that she loves. I don't have a "good eye" for baby photos, but I feel like given the right props, I can recreate just about any photo that she finds.
Maybe I'm overestimating my photo abilities, but our backup plan is that we rush out at the last minute and find a photographer who is available. We'll end up spending extra money but this lens is something that we wanted anyway. So don't worry, we know this is a bit insane and maybe we'll regret it, but we're heading in with a plan and I feel like we've got a good chance.