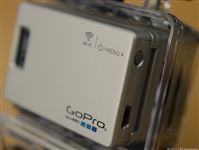 In an earlier post, I explained that my new skis were partially paid for by my company with a new part of our benefits package. You only get the credit if you decline the gym membership, and since the gym membership is quite a bit more money than the credit, I think HR wants more people to pick this credit. They recently contacted me (and some other people) about doing a short video on us and sending it out in a newsletter to all the employees. That in itself seemed pretty cool to me, but they also said they would send us GoPros to capture footage of us using whatever athletic equipment we bought with the credit.
My camera arrived in the mail, and while it wasn't the new Hero3 model I was hoping for, it did come with the Wireless BacPac. There are a variety of BacPacs that you can attach to the back of the camera, and obviously this one provides wireless capabilities. You can connect to the camera via a phone app or a remote control (not included). It lets you control all the various settings of the camera as well as starting and stopping recording. If you're using one of the phone apps, you can even see a live view of what the camera is seeing. This is incredibly useful for setting up shots since there is no viewfinder on the camera.
I was originally a little bummed about the wireless kit because GoPro currently only has an app for iPhone and Android. A Windows Phone app is supposed to be in the works and was demoed at CES, but it's not out yet so it doesn't do me much good. The wireless protocol must not be too difficult to decipher because there were a few homemade GoPro apps for Windows Phone and to my surprise, they actually work quite well. The UI design leaves something to be desired, but hey, it works. Basically you start up the wireless on the camera and it creates a WiFi network. You have to switch your phone to connect to that network and then you can communicate with the camera. The BacPac contains it's own power source, but if it runs out then it will suck power from the main camera battery.
I was also able to try out the proper GoPro app for Android thanks to Ken. He traded me one of his old Android phones (HTC Thunderbolt) for one of my old Windows Phones (HTC Trophy.) And additionally I'm finally able to experience the world of Android.
As for the HR video, I'm hoping that when it's completed, I can get a copy of it. But since it's an internal video, I doubt I'll ever be able to post it publically. It's probably for the best. They want us to interview ourselves and no matter what I do, I end up looking like a complete tool. There's a reason I prefer being behind the camera.