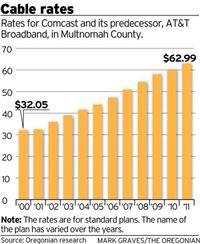 When Tyla and I moved into our house, we signed a two year contract with Comcast in Exchange for about $30/month off of our bill compared to a month-to-month plan. That worked well since I knew exactly what I wanted. Since Elijah was born this summer, our TV watching has fallen off a cliff. We are trying not to give him much time in front of screens for the first couple years and that means that we also get less screen time (good for all of us!)
Our contract with Comcast ended and our bill went up to ~$120/month. That got us the Digital Starter TV package and 25/2 Internet. I don't pay for a DVR since I built my own and I own our cable modem too. Those two things might make our bill lower than yours for the same package.
Normally I call Comcast every 6-12 months to tell them I'm cancelling or switching to satellite and they give me a lower bill. I even had one rep TELL me to call back in 6 months to lower my bill again. This time I made multiple calls but couldn't squeeze and promotional deals out of them. I'm not quite ready to pull the plug on TV and get everything over the internet, but there were still ways I could lower my bill.
I ended up with the "Blast Plus" package. That gives us 50/10 internet (double the download speed and five times the upload speed) but it drops us down to the Digital Economy TV package. There are about 40 fewer channels. The major losses for me are all the ESPN channels and Fox Sports One (the old SpeedTV.) It also drops TNT so that means I'll only get to watch the first third of the NASCAR season before it moves over to the other networks. I thought I'd never get rid of those channels, but I also can't remember the last time I actually had time to watch them.
This change saves us $42/month! The package is $79.95 plus local taxes and fees. It also comes without any contract so if we change our mind at any point, it's easy to bump back up to a bigger plan.
If you're interested in something similar, here is a list of the channels that we keep and the one we lose. It might be different depending on your area.