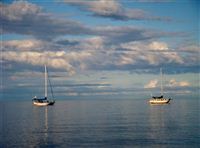 Mom and Dad came out for Labor Day and we took a trip with Tyla around the Olympic Peninsula. On Day 1, we started with the Edmunds-Kingston ferry. We weren't actually sure if we should even begin the trip due to the wet weather and the even wetter forecast. The ferry crossing was dry but incredibly windy. We made our way up to the top of Hurricane Ridge in Olympic National Park. It wasn't raining there either and the clouds were loose enough to give us some good views. Not knowing much other than the fact that it was a little dirt road, I decided to drive the family out to Obstruction Point. What a drive it turned out to be! Do NOT drive this road if you have an RV or even a large truck. There are many points where it is really a one lane road with hill on the left and cliff on the right. The road was in pretty good shape and we made the 9 mile drive in about 20-30 minutes. Once at the end, we did a little hiking and then made the trek back. The highlight for Tyla was definitely the marmots. We drove back to Port Angeles and spent the night there (after I dropped my camera in the sand and broke it.)
On Sunday we drove from Port Angeles to the Hoh Rain Forrest on the west side of the park. It was raining. Shocker. They get 140" of rain a year with another 30" of mist. We took the ranger led hike, learned a bit, and got soaked despite our ponchos. We continued on to Ocean Shores where, once again, it was not raining and we enjoyed the beach for a while. The beach there is an official state highway so I took the Subie out there for a while.
Sunday morning we headed to the jetty on the south end of the island and then made the long drive home.
I think we made a great move going in spite of the rain. It sounded like it poured all weekend in Seattle and, although it was cloudy, we didn't get much rain on our trip. There are a lot more things I want to see over there, but this definitely crossed a few items off my list!
Photos are in the photo gallery under Olympic Peninsula.