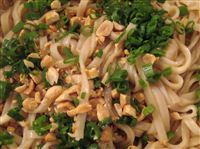 It's been a while since we've had a "Cooking with Tyla and Ben" post. This one is mostly Tyla's brainchild. She had a hankerin' for some peanut butter noodles. The only change we made from the allrecipes.com script was the addition of a chicken breast because who eats food without meat? That's crazy talk.
Ingredients

1/2 cup chicken broth
1 1/2 tablespoons minced fresh ginger root
3 tablespoons soy sauce
3 tablespoons peanut butter
1 1/2 tablespoons honey
2 teaspoons hot chile paste (optional)
3 cloves garlic, minced
8 ounces Udon noodles
1/4 cup chopped green onions
1/4 cup chopped peanuts
1 chicken breast

Cook the chicken breast in a pan. Optionally, add spices.

Bring a large pot of water to a boil. Add noodles and cook until tender according to package directions. Drain.

Meanwhile, combine chicken broth, ginger, soy sauce, peanut butter, honey, chili paste, and garlic in a small saucepan. Cook over medium heat until peanut butter melts and is heated through. Add noodles and chicken and toss to coat. Garnish with green onions and peanuts.
Check the timing on the noodles. It took us a while to boil water and then another 12-14 minutes for the noodles so the chicken was done way too early. However, since everything is combined and heated together at the end, it's not a big deal.