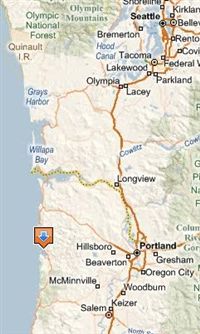 Tyla and I spent Memorial Day weekend camping in Garibaldi, OR with her family. They headed down earlier in the week, but we didn't leave until Saturday morning in hopes of avoiding some traffic. We met them in chilly Cannon Beach where the wind and cool temps made for a short walk on the beach. Oskar enjoyed the ocean, we had some lunch in town, and then we visited a few shops before heading out.
The whole weekend was full of laughter, campfire, beaches, great views, cornhole, and delicious food. Tyla's dad is a dutch oven genius… and I'm not talking about farting under the covers… but maybe that applies too. I wouldn't know. The highlights included a quick hike Saturday morning and a ride on an authentic steam engine to nowhere. I may have taken a few years off my life by inhaling the steam and oil combo but it was a fun trip. We, of course, introduced the family to cornhole and I think it was a big hit.
We left early Monday morning to avoid the crazy traffic, but on the way out, we stopped at the Tillamook cheese and ice cream factory to pick up some cheese curds (Tyla's favorite.) We hit the beginnings of the big traffic jams but still made pretty good time.
The weather was a bit iffy on Saturday, but Sunday and Monday were gorgeous. The four of them slept in the trailer while I was out in the doghouse tent. It can't really be called the doghouse since the dog slept in the trailer too. I was happy to try out my fancy new Marmot sleeping bag. Even though the temps dipped down to around 40 degrees at night, I was very comfortable. It was a good purchase.
All in all it was a great weekend. Thanks to the whole family for letting me tag along!
Photos are posted in the gallery.