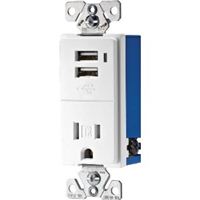 When we bought this house, the inspector found a few outlets that didn't work and quite a few that didn't hold a plug very tightly. Since I had to replace quite a few, I decided to just replace them all. We chose to go with the Decora style outlets and switches. Those are the rectangular ones. I went for the tamper resistant outlets meaning that it's difficult to shock yourself by sticking something in. Replacing the existing outlets and switches is a pretty simple process (once I picked up a device that helps me figure out which circuit I should shut off), but it's time consuming.
Most of this is pretty boring, but it's fun to look through the Leviton product catalog and see all of the interesting stuff that they offer. Here are some off the non-standard things that I've installed:
Digital timer switch that calculates sunrise and sunset. Read more in a previous post.
Bathroom fan timers. These come in 5-10-20-30 minute and 10-20-30-60 minute versions. I used the shorter ones for the bathrooms that just have toilets and the longer ones for the bathrooms with showers.
Remote control dimmer switch. I have one of these in the theater room and one in the bedroom.

Nightlight outlet

. This light isn't very bright but it's just enough to light up a dark area at night. It has a light sensor so it turns off during the day.

USB outlets

. I put two of these in the bedroom for charging our phones and Kindles. There are a few different models around but these are UL approved.

Surge protector outlet

. I haven't installed one of these yet but I'm tempted to. It saves you from having a bulky surge protector lying on the floor for one or two devices. I'm holding off because I'm thinking about installing a whole house surge protector instead.
The other day I was standing in a bar with my boss and we were going back and forth rattling off different fun things we had seen in the Leviton catalog. That's when I knew that unequivocally, I was an adult. A geek, but an adult.