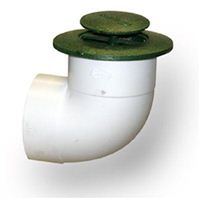 The area on the northeast part of our lot towards the cul-de-sac has always been mushy and swampy. One day I was out there when the sump pump turned on and I saw it shooting out a LOT of water right down the hill into that area. After chatting with Tim, we decided to see if we could improve the situation.
We met at Home Depot one Saturday morning at 6am (he had to drop Chelsea off for a half-marathon) and were done with the project by 9:30! We trenched 30 feet out to the street, connected the top end to the sump pump and a downspout, and installed a popup drain right by the curb. When the pipe fills with water, the drain pops up and water flows out to the curb.
It was super helpful having Tim there. He taught me a couple great little tricks:
If you don't want to reseed the area, cut rectangles of grass on three sides and then fold it back.
Lay down some plastic and throw the dirt on that. It makes for super easy cleanup.
I might need to dig up the popup drain at the end and redo that some day. It has a small hole at the bottom that let's excess water drain out. But since we just set it right on the dirt, the wet dirt filters up through that hole and plugs it up so now I have a layer of dirt at the bottom of the pipe. I imagine that over time it will start to plug up the pipe. At that point I'll dig up the end of the pipe, dig a small hole right underneath that point and fill it with some gravel. There's no rush though. That can wait.
We've had pretty consistent rain since this project so the swamp has never had a chance to fully dry out. At that point we'll know how much this drain helps. I suspect it will still be wet down there since this area used to be a pond and we're at the bottom of a hill, but hopefully it helps. When we redo the whole yard in a year or two, I'm tempted to tie all my downspouts into drains like this and also run a big French drain along the west side of my lot to stop water from flowing down the hill.