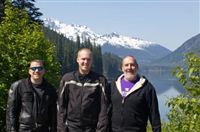 It started as an idea to ride up my motorcycle to Whistler for lunch. Then it expanded to an overnight trip. And eventually it meant that FrankL, DougW and I headed on a three day ride through British Columbia.
We left Woodinville around 9:30 on Saturday morning and headed north on I-5. We crossed the border on Hwy 15, or rather, we tried. It took about 45 minutes of sitting in stop and go traffic to get across. We stopped for lunch right across the border at the Derby Bar and Grill which turned out to be an off track betting restaurant. We skipped the horse stuff and stuck to the food, which hopefully didn't involve horses.
The ride through Vancouver was quite unpleasant. Most of 1 was torn up for construction and it was pretty clear that most of the construction crew didn't ride motorcycles because it was ROUGH.
That stretch wasn't too long though and eventually we popped out on the Sea to Sky Highway heading up to Whistler. That gorgeous rode was a real treat on the motorcycle and all too quickly we were in Whistler.
We walked around the village for a while, had a few beers at the Irish pub and then ate dinner at the brew house. We stayed at the Adara Hotel right in the village. It was nice to try a new hotel there, but I'm not itching to go back. It was VERY loud until late in the night. All the hotels in the village are loud, but this one seemed a bit excessive.
On Saturday morning on the way out of town, we parked on the side of the road to take a picture next to the big Inuksuk (one of the statues you probably saw during the Olympics.) Doug's daughters (Frank's granddaughters) gave them some stuffed bears to carry along on the ride and they were supposed to take photos with them. When we got back to our bikes, there was a policewoman writing us parking tickets! Frank pleaded our case by holding up the bear and saying, "I'm sorry. My granddaughter gave me this to take pictures with while we're gone!" While she tried to keep up a tough exterior, you could see it melted her heart. After a lecture about parking, she voided the ticket and let us go. Frank later named the bear in honor of her: Canadian Bacon.
The ride from Whistler to Kamloops via Lytton was one of the most amazing roads I've ever ridden. It was windy, twisty, hilly, and very unpopulated. The only catch was that there was a lot of wildlife to watch out for. We stopped for some kind of quail that wouldn't fly away, mountain goats, big horned sheep, one cow, and a deer that came a little too close for my liking.
By the time we crossed over the mountains, it was HOT. Temps were right around 100, and when that's blowing in your face at 60mph it feels like you're in a convection oven. We stopped often to hydrate, ate some ice cream from Dairy Queen, and soaked our shirts in sinks to keep us cool. We stayed in downtown Kamloops and wandered around to find some dinner.
Monday was the last day of our trip, but it was also the longest day. The first two days were around 210 miles but this one was 280 miles. It was all almost all interstate (interprovince?) so it went quickly. We crossed the border in Sumas which had a shorter wait, but still took us about 20 minutes in the hot sun.
By the time we got home, we were all sore, but we had big smiles on our face from the ride. We all had our little hiccups along the 710 miles whether it was a check engine light (me), dripping gas (Doug) or new rattles (Frank), but our bikes held up just fine and we all got home safely. We'll have these great memories for a long time! A couple photos are posted below and more are in the photo gallery. I rode with a camera around my neck so many of the photos are snapped hastily without really looking at the shot. When we stopped I would sometimes take out the big camera for some nicer shots. Enjoy!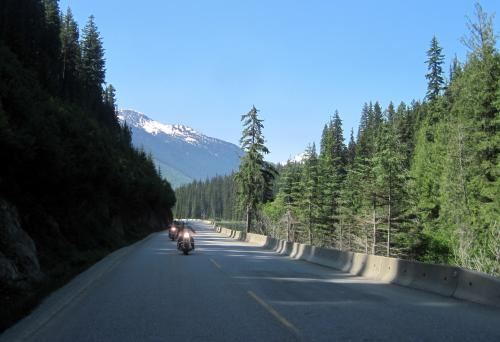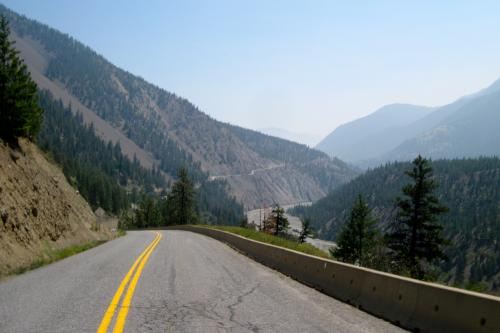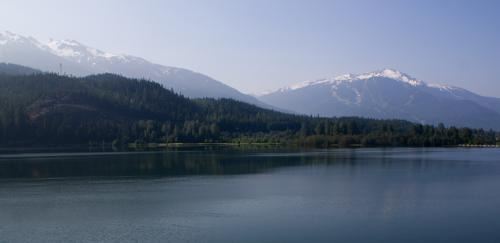 P.S. I think I figured out my check engine light without a trip to the dealer so that made me happy. It had something to do with the Speedohealer that I installed, but the error is cleared and hasn't come back yet.