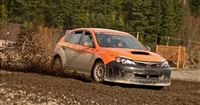 A recent episode of the American version of Top Gear featured multiple locations in Washington State. (You can watch the whole episode at history.com) It started at DirtFish rally school which is down the road in Fall City. Tanner Foust had a segment driving his car along some of the roads in the area and I recognized a lot of them from my motorcycle rides. Later on, they headed out to the south east corner of the state for some driving along the Snake River Canyon.
During the show, I learned that there's a new rally race in the area called the Nameless Rally. It happened on June 21-23 so I'm way too late this year, but if they run it next year I'd love to go out and watch it.
That Dirt Fish school isn't cheap, but I'd love to take a class there some day. Maybe if I combine birthday and Christmas presents for a few years it would add up.