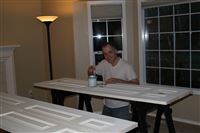 For the last couple weeks, I've been painting doors. The closet doors for the nursery were stored up in the rafters of the garage when we bought the house and they were all scratched up. The door to the nursery had a bunch of screw holes in the back of it and then we also didn't pay the contractor to do any painting when they worked on our bathroom so the new door was unpainted.
All four of those doors are now painted and installed. Looking back at the project, I can see how a paint sprayer would have been a big bonus, but I got by with paint brushes and rollers. My strategy was to use a brush for the inset parts of the six panel door, roll over the rest of the door, and then use the brush to take the texture out of the rolled areas. I started each door with a coat of Kilz primer and then added one coat of white paint. If you try this, remember to check the angled areas of the inset panels on each door. They can collect paint globs.
I'm not 100% thrilled with the end result. We have two different types and colors of white trim in the house so these doors only match half of that, but it's the best I could do without tackling all the trim as well. And there's no way I have time to do that monster project right now!