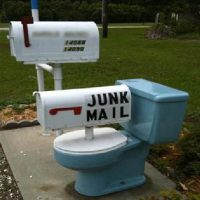 A huge percentage of our mail is junk… or it was. This is the point where I'd normally hit you with some stats about how much junk mail we get per day, and honestly, I did start collecting it at one point. Normally collecting data about random things is fun, but even data can't make junk mail fun. So even though I didn't count the junk mail rate, I did throw it all into a box for a month or two, and then I signed up for PaperKarma.
This isn't sponsored, but the idea of PaperKarma is that it helps you unsubscribe from junk mail. You take a picture of the junk mail with your phone to help it search for the company that sent it, you tell it the exact addressee for the junk mail, and then they go off to tell the company to stop sending you mail.
I was skeptical at first but we signed up for a six month subscription for $16. Since I had a big backlog of junk mail, I was able to enter in a lot of mail right away. Again, I don't have data, but we get WAY less junk mail than we used to. Some still sneaks through, but I know I'll never be rid of it all and just reducing it has made me happier.
The only real nitpick I have with the service is that the photo of the junk mail seems pretty pointless because it rarely works. I end up typing in the name of the company so why include the photo step?
I plan to let our subscription lapse for a while and see how long it takes to build back up, but I won't hesitate too long to resubscribe for a bit to beat back the flood.