Welcome to another Tesla Tuesday!
Yesterday I wrote about our trip to Lincoln Rock State Park. Usually when we go camping, we take the truck, but since we were staying in a cabin and it was such a short trip, I decided to give the Tesla a shot instead.
With the Cascade mountains in between us and the park, it would have been pretty tight to make it all the way there and back without charging. I didn't know what charging options would be available at the campsite, so on the way out, we paused at the Leavenworth supercharger for a quick hit. That charger is so convenient because it's in the same parking lot as Dan's Market which is quickly becoming our favorite grocery store in Leavenworth. We had planned to buy some of our food there anyway instead of lugging a cooler across the state. I actually had to let Tyla finish the shopping because our charging was done before our shopping was.
I had intentionally not topped off the car there in case we could find a way to get free charging at the park. The only easy option was a 110v outlet on the back of our cabin. It was a little too far for our Tesla mobile charger to reach, but I had bought along a beefy 12/3 extension cord. Charging on a standard home outlet is exceedingly slow, but we had time and it was free so why not.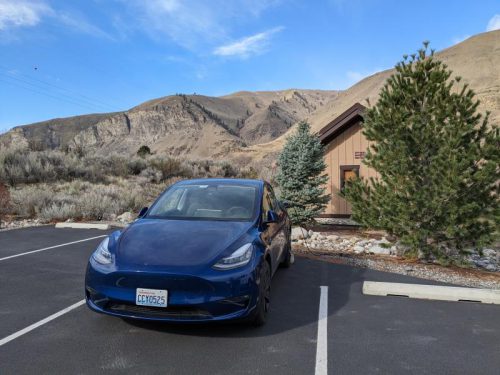 On Saturday, I drove over to an unused RV spot and plugged into their 240v 50amp circuit which charged about 7 times faster than the outlet at our cabin. After a couple hours a ranger stopped by and asked me to move the car though just in case someone happened to have that site reserved. I get that it was the rule and I didn't put up a fight, but it seemed unlikely that in a park with 100+ empty sites, that specific one would be reserved. In retrospect, I wish I had put a note in the window with a short explanation and my phone number so that I'd at least save them the work of looking up my license plate if they didn't like it.
I didn't leave the mobile charger plugged in overnight because I wasn't sure how waterproof the whole setup was, but by the time we left, we had added about 25% to the battery which meant we could easily make it home without a stop, and it also saved us about $7 versus charging at the supercharger.
Yes, you read that right: $8. I love the challenge of being as frugal as I can with my charging to really milk the most savings we can, but when you look at the work required to save even a few bucks, it really doesn't pay off unless you're having fun doing it.
While it was a little tricky to fit Elijah's bike into the car, all our stuff fit pretty easily. The frunk and the under trunk storage swallow up so much gear. And I was glad we had all wheel drive for the trip through the pass. There was quite a bit of snow over the weekend but thankfully we missed the worst of it. I did have chains along just in case.
All in all I'm glad we took the Tesla instead of the truck. These adventures with the Tesla are helpful in expanding my comfort zone. We're still hoping to do a long road trip with it this summer!