Announcement number 2! It looks like I'm going to be a couple minutes late so this will be posted under Friday's headline.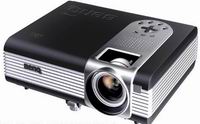 Oh well, you'll just have to deal.
Today a BenQ PB6100 was delivered to my house. After about a month of research I finally settled on this projector. It's the first piece of the home theater project that we're going to start for the new house. Don't worry… we'll have a full geek project page documenting the whole thing. It's going to have everything… inclduing stadium seating!