When I moved here in 2006, I looked at a bunch of condos and townhomes. One that I really liked is right down the street from where our house is right now. It was tall and skinny with three floors, very similar to the townhouse where I lived in Jersey. Since buying this new house, I've wondered if we would have moved after getting married if I had bought that townhouse because it's in the right location and it had three bedrooms. But now I'm extremely thankful that I didn't buy that townhouse.
In June of 2006, I would have paid about $310K for a unit along the backside of the complex. Today that same condo is worth about $204K. But that's not the worst of it. The buffer of trees that were behind the complex have been completely removed for the I-405 project. The new ramp from 405N to 522E is going to end up almost directly off the back porch of those townhouses! You can see some of the piers for the ramp in this picture.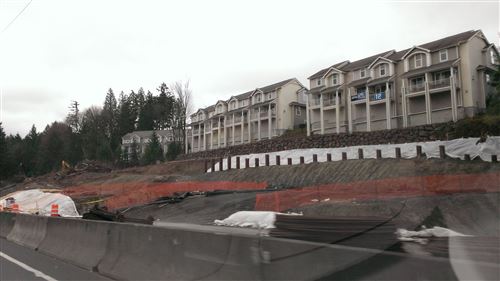 I owe my realtor a lot for suggesting that I might not want to buy this townhouse. Even with the trees the road noise was loud, and we weren't even there during rush hour.
It will be interesting to see what happens to the property values as this project continues.