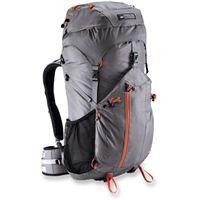 My main backpack for hiking is a Camelbak Snoblast. It's a good size for day hikes. It holds all of my first aid gear, an extra piece of clothing and the three liter water bladder. It gets a bit small though in the early and late season when I have more bulky clothing or if I need to carry something for other people. It was time to upgrade so I headed to the store that has been claiming a lot of our paychecks lately: REI.
I ended up with the REI Flash 50 backpack. It's big enough that I could easily do an overnight trip if I ever decide to go that far, but it's in their "ultra lightweight" category. It doesn't come with a water bladder but it has a holding system inside along with a hole over each shoulder for the drinking tube to come out.
A couple weeks ago, I also picked up their entry level REI Traverse Trekking Poles. I had been a bit skeptical, but as I start to hike more difficult terrain, I can see the need. I've used them on two hikes up the cable line trail and have been very happy with them.
I won't use either of these new pieces of gear for the easier hikes, but I'm happy to have them in my arsenal when we tackle Camp Muir in a few days (at about 10,000' on Mt. Rainier.)