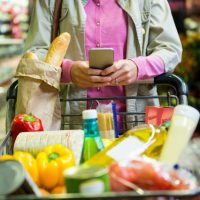 Maybe I take grocery bills too seriously, but in 2021 I have cut our bill by 13%. That does not include any savings from having a club card, buying store brand items, or catching the right sales. Here's how I approach it:
Track your spending! You can't improve what you can't measure. You can do it with an online tool, your credit card statements, or just by typing receipts into Excel.
Safeway has a program called "Safeway For U". You can clip coupons to your club card from their website and save extra money. Usually these deals save money directly but sometimes they can also give huge numbers of rewards points.
Be smart about which credit card you use. Our American Express Blue Cash card gives us 5% back on grocery store purchases with no annual fees.
For every $100 we spend at Safeway, we get 1 "reward". Careful use of those rewards can save a lot of money. At a minimum you should be striving to get $1 back from every reward but with a bit of planning, you can get closer to $2 per reward. (Remember that rewards expire at the end of the next month. You can use the website to see how many you have expiring.)

My first choice is to use the rewards to fill up with gas. 10 rewards means $1 off of gas and I can get 20 gallons in the truck so there's my $2/reward goal.
The Safeway For U website lets you use rewards to get free stuff in store too. This is a bit like playing the Price is Right because you need to watch for the deals that are close to the $2/reward target.
If I've burned through #1 and #2 and my rewards are about to expire, I'll use the 7 rewards for $10 off coupon.

The final trick that we use is to watch for gift card deals. Especially around holidays, they will sometimes off 4 points per $1 spent on gift cards. So if I buy a $100 Safeway gift card, that translates into 400 points which is 4 rewards which is $8. Plus I'll get 5% back on my credit card and there's my 13% back! Honestly I don't do this one quite as much though because I really dislike having gift cards sitting around. So if I do this, I'll usually walk into the store, buy the gift card, then do my grocery shopping and immediately use the gift card.
Cheap? Frugal? Thrifty? Miserly? However this strikes you, I think the biggest draw for me is turning a chore into a game. It doesn't take much extra time and I can calculate my "score" at the end of the year. It's the same reason why I always try to sort my list into order that I walk through the aisles at the store: it keeps me entertained.