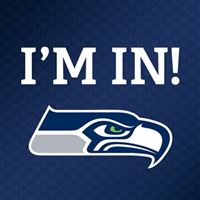 I've lived in a lot of different cities which means that cheering for the Bears, Colts, Vikings, and Eagles could have all made sense in the past. With all that traveling, I didn't really cheer for one team (except for a stint where I cheered for the Cowboys? I think it was because of the Aikman, Emmitt, Irvin trio.)
After a year or two in Seattle, I knew that I wanted to stick around this city for a long time. It was also really hard to follow my old sports teams so I decided to cheer the Mariners and the Seahawks. Last year I finally started watching every Seahawks game.
So I think that makes me a bit of a bandwagon fan. Oh well.
This has been such a fun year to cheer for the Seahawks! I lived in Philly in 2005 when the Eagles lost to the Patriots but I wasn't really an Eagles fan. This time around it's exciting to ride the wave of Seahawks fever that is coursing through the city. Aside from a few guys with, um, strong personalities (ie. Richard Sherman), this roster seems like a great group of guys. Russell Wilson seems like a genuinely fantastic individual, and it's fun cheering for this rag-tag group of low draft picks with low salaries. There's no way the Seahawks can afford to keep this roster together once contracts run out so we'll enjoy it while it lasts.
TimS, AndyD and I bought those jerseys from China a few weeks back but Tim and I have pretty much ditched ours. Andy got a mostly gray one which looks quite a bit better than our navy ones. I just ordered a Seahawks t-shirt from nflshop.com so this one will be official with all the right colors, etc and I won't be embarrassed to wear it.
P.S. Sherman posted an article on Monday explaining his actions.