As soon as FrankL, DougW and I got back from our British Columbia motorcycle ride, we started talking about the next one. We settled on a trip out to Dry Falls in central Washington. This past Saturday was the day that had been circled on the calendars but we woke up to rain. After the driest two month stretch in Seattle history where we only got 0.02 inches of rain, we got rain on the day we picked for the ride! We met at Doug's house anyway, and, after checking the radar, decided to give it a shot.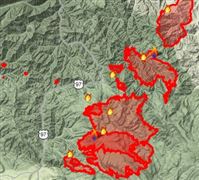 The rain ended somewhere around North Bend and from there it was clear sailing. Our route took us up US 97 right through the Wenatchee forest fire. The fire has burned 143 square miles and there are firefighters from all over the country trying to put it out. It started as a series of smaller fires caused by lightning and quickly got out of control. A little bit of the smoke has been drifting west into Seattle, but it was nothing like we experienced over there. The sun turned to a dull red ball, visibility was greatly reduced and you could feel the sting of smoke in your eyes. At one point where the fire was the closest, they had closed down the road and were leading single lines of cars back and forth with pilot cars. The website says that "fire is approaching the highway from the east and crews are conducting burn out operations from the road. Firefighters and their equipment will be along the roadway and visibility likely will be reduced by heavy smoke." The fire's page on inciweb.org shows just how close the fire is to the highway right now!
Once we were through that area, we headed east out to Dry Falls. It's a big dry canyon/riverbed and the sign said it was once the largest waterfall in the world. After taking in the sights it was back on the bikes heading west through Wenatchee again, then Leavenworth, Stevens Pass, and finally back home.
All told it was just over 400 miles in one day. We were pretty sore during those last stretches, but what a day it was!
This was my first major test of the Go Pro camera. Instead of mounting it on my helmet, I mounted it on one of the wind deflectors over my right side mirror. I got just under 2 hours of video recorded before the battery ran out. I posted it all on YouTube if you really want to see the raw footage. I also edited it down to about 5 minutes, added a soundtrack (Eddie Vedder from Into the Wild), and recorded a little commentary to explain what you're seeing. The version embedded below has the commentary but if you don't like me talking, you can watch the edited version with no commentary. Confused yet? Just watch the video below!