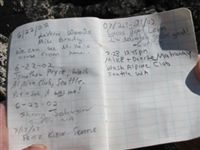 Since we found that summit register on top of Cougar Mt., Rachel and I have been wondering where those books are kept. The register at the top of Mt. Rainier is kept in the National Park Archives.
Until the 1930s, the park did not maintain formal park summit registers. During the early years, many different mountain climbing clubs maintained registers at the summit. The Mountaineer's collection of registers is located at the University of Washington. The Mount Rainier National Park Archives contains summit registers beginning in 1932.

Registers continue to be added to the collection. If you are searching for a very recent signature, please be aware that there is a time lag in getting registers to the archives for processing. Though some summit register pages are damaged and some volumes are missing, the registers are still an excellent record of Mount Rainier summit climbs and provide the reader with an opportunity to "read the thoughts of the climbers."

To initiate a summit register signature search, please be prepared to provide as much information about your climb as possible: the number of people in the climb, if you were in a guided party, how you wrote your name, etc. Providing the exact date of your summit climb or as close as possible to the date of your climb, is the most important information for ensuring that your signature has a chance of being located.
An email to the King County Parks and Recreation website revealed the destination of the Cougar Mt. registers:
The books are read and stored at the Cougar Mountain Regional Wildland Park maintenance office. Staff tells me they are very interesting reading. If you would like to review any of them, please call the maintenance office at 206-296-4145.
This seems like a good book opportunity to me. Imagine how many funny, inspiring, heartbreaking tales are recorded on those pages!