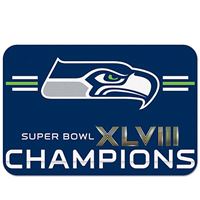 I've never lived in a city where the hometown team has won any major sporting event. It was so exciting to see the Seahawks not only win, but completely embarrass the Broncos! I don't usually listen to sports talk, but when I flipped it on for the past two weeks, all I heard was about how smart Peyton Manning was and how the Seattle defense wasn't going to be able to handle him. Wrong.
We celebrated the win with a house full of friends as we had been doing throughout the playoffs. It's fun to watch your team win but it's even more fun to be surrounded by friends when it happens.
The city has gone wild. People on Twitter were reporting a lot of fires and rioting which is unfortunate. Hopefully the police keep that nonsense under control. It's Seattle. I can't imagine things will get too out of hand.
Congrats to the Seahawks! It's fun to cheer for a team with a bunch of previously unheard-of players with very low salaries. They're in it for the game, not for the money and it showed. They played with a lot of heart. Everyone on the team plays a role, instead of being a one man show. As proof of that point, they scored in every way possible during the Super Bowl: safety, field goal, and touchdowns both by the offense and kick return team. Kudos to you Seahawks!