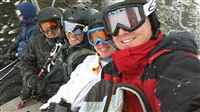 We've had an interesting winter. It started off with a bang, dried out for quite a while, and now we're getting alternating snow dumps and rain. I skipped the pass again this year and again I wonder if that was the right idea. My plan was to pick out the best days, take vacation, and go skiing, but that hasn't happened yet.
I have been up three times this year though. I've already written about the first trip to Crystal with Tyla and my friend AndyM from work. I'm amazed at how much Tyla has improved from last year without any skiing. What's her secret? Every day we go out she progresses dramatically. Maybe we should have both gotten passes and set ourselves up to ski once a week.
The second trip was also to Crystal with Tyla but this time it was with AndyD and StephanieW. Aside from an unadvised attempt to lead them down Green Valley bowl, we had a great time.
Then last week I headed up for night skiing at Alpental with AndyM. We started off in a bit of misty rain, but that ended and the slightly warm snow was soft and very nice. It started to turn into frozen lumps by the end of the night but we were done anyway.
I don't know that I'll ever get another 29 day ski season (at least until I retire), but these trips up with friends are a lot of fun!