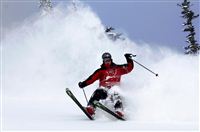 Every October, Microsoft has a big auction for charity. Employees can put things up for other employees to bid on. Four years ago, I won a day of semi-professional ski photography. Jay and Andy came out and the three of us had a great skiing day with some amazing photos. I've continued to enjoy those pictures, and Bernard, the photographer, has continued to offer that auction item every year. So this past fall, I bid on it again and won.
We've had a hard time picking the "perfect" day. I wanted to combine a midweek date so there's less traffic, some partial clearing so there is good light, and of course, fresh snow! Those three things aligned last Thursday so we took the day off and headed up to Stevens Pass since they had the most snow that day.
One of the main reasons I wanted to do this again was that I felt like I skied extremely poorly the last time we did this. Bernard was able to get some good shots every once in a while, but I pretty much fumbled through the whole thing. While I'm still FAR from an expert skier I felt much more in control this time. Maybe I'll do it again in four more years after I have even more practice.
Lest I get too much of an ego about these pictures, I've included one in the upper right of this post that is fairly indicative of how I normally ski. The photos below are a few of my favorites but there are more in the photo gallery.
I definitely had my share of dumb moments throughout the day. The most obvious one was the time we spent about 20 minutes carefully traversing through some very tight trees to a secret untracked stash. Over the radio, Bernard described the route to me. Drop out of the trees, make a hard right, traverse under the cliff about 50 feet and then ski down the tree line. Got it. I dropped in out of the trees, turned right a bit late, tried to correct and ended up face first in the snow. By then I had lost too much speed and the rest of the run was wasted.
But all in all, I got a ton of pictures that I love. Thanks to Bernard for putting up with me and for giving me these wonderful photos!