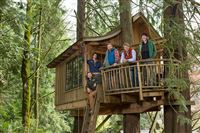 Tyla and I enjoyed watching the entire season of Treehouse Masters on Animal Planet. The shows all followed a strict formula but it was still fun to see what they came up with for each treehouse. Sidenote: it's amazing how rude and ill-mannered rich people who want to buy treehouses can be (ie. the wife in the "Backyard Bungalow" episode.)
If you only watch one episode, check out the finale called "Love is in the Air." Pete builds a treehouse on their own property so he gets to do exactly what he wants and wow, it's a whopper of a treehouse! What's even cooler for us is that we saw them building this while we were there. The film crew wasn't there that day, but they had gotten the metal bridge supports in and were working on the main treehouse building. Pretty cool!
I'm so thankful that we stayed there last summer before this TV show hit. Even then it was nearly impossible to find an opening 6-8 months into the future and now they don't even offer online booking or prices. You have to email them. I imagine they are flooded with requests!