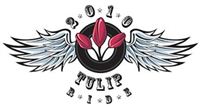 Every year a group of riders gets together to ride through the enormous fields of Tulips north of Seattle. This is the 9th annual ride but it was my third and Tyla's second. On Friday night, I was pretty sure we weren't going to go because the forecast looked bad, but on Saturday morning I got up and decided we should give it a shot. I'm glad we did!
We left the house in a light drizzle, drove through sun, and then arrived under clouds at Tulalip where we met up with the 52 other motorcycles. We left with a police escort to block the intersections and keep the group together (thank you!) and made our way to Tulip Town. While we were there, it rained a bit, but nobody minded too much because there was an indoor area to grab a bite to eat.
After browsing what was left of the tulips (we missed the prime blooming period), we headed west on Hwy 20 and then south down the length of Whidbey Island. The sun came out and gave us some gorgeous views as we crossed Deception Pass. We pulled up to the Clinton/Mukilteo Ferry just as it was arriving so we didn't have to wait more than 5 minutes to board.
All in all it was a fantastic day. I'm so glad that we decided to give it a shot! We took the new video camera along and Tyla took some video from the back seat. I haven't had time to edit it together yet, but Jeff Henshaw, the ride organizer, put together a nice video. He has a helmet mounted camera which worked quite well. Bonus points if you can pick us out in the video. I'll give you some hints: at 2:15 we're getting off the bike and at 3:50 we're the second bike to go past the camera.
I posted eight pictures in the photo gallery and you can see Jeff's pictures on the ride's web page. In the picture from the ferry, you'll notice that we picked up the official t-shirts. The profits went to a Haiti relief fund and a local Tulalip tribe charity for kids.
Hopefully the photos are adjusted correctly. It occurred to me after I finished all this that i haven't done any color correction on this fancy new monitor yet. I'm really happy with the way this photo and this one came out. Hopefully they look good on your end too.
Thanks to Jeff for organizing another great ride! We are already looking forward to next year. This may have even encouraged me to start up my own group ride. Stay tuned!