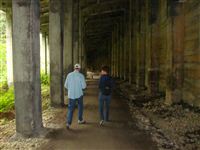 If you've read The White Cascade, you probably recognize Wellington as the sight of one of the greatest train disasters in history. In 1910, a couple train got stuck on the tracks by a huge snowstorm and was eventually taken out by an avalanche killing 96 people. It's located in Stevens Pass and on Thursday, Mom, Dad and I headed there to check it out.
I tried to hike to Wellington on Father's Day last year but got turned around by snow. This year we didn't have any problems like that. We drove to the top of Stevens Pass, caught the north end of Old Cascade Highway south down the valley to the Wellington trailhead.
Unfortunately it was raining just hard enough to thwart our attempts at a good hike, but we hiked about a mile underneath a concrete snowshed and saw the entrance to the old Cascade train tunnel.
Since our train adventure ended a bit early, we headed on to Leavenworth. After a quick stop to walk through the shops and get some fudge, we drove south and did the three pass blast in the Subie (Stevens, Blewett, Snoqualmie.)